TEWS TECHNOLOGIES Introduces Cost-Effective XMC Module Family with High-Density User-Programmable FPGA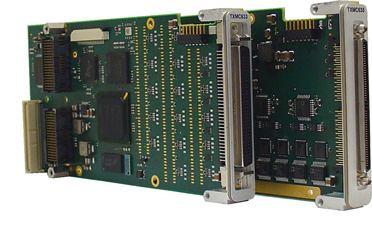 The TXMC633 and TXMC635 are the first two members of TEWS TECHNOLOGIES' cost-effective user programmable XMC family of modules featuring the Xilinx® Spartan-6™ FPGA. The XMC FPGA modules are designed for simulation, industrial, COTS, and transportation applications. Advantages of the new family of modules include cost-effective customizable FPGA-based designs for long-term product lifecycle management, the availability of example application designs, and a 5 year warranty for members of the family. The different members of the family implement various I/O configurations for application specific requirements. Additional XMC FPGA family products will feature new I/O configurations, and custom implementations are available for qualified projects.
The TXMC633 module versions are available with 64 ESD-protected TTL lines or 32 differential I/O with EIA 422 / EIA 485 compatible, ESD-protected line transceivers or 32 TTL I/O and 16 differential I/O with Multipoint-LVDS Transceiver.
The TXMC635 module features 48 TTL I/O, 8 channels single-ended 16 bit analog output with up to ±10.8V output voltage range, and 32 single ended or 16 differential 16 bit analog inputs with full-scale input voltage range of up to ±24.576V.
For customer specific I/O extension or inter-board communication, the TXMC633 and TXMC635 provides 64 FPGA I/Os lines on P14 and 3 FPGA Multi-Gigabit-Transceiver on P16. P14 I/O lines could be configured as 64 single ended LVCMOS33 or as 32 differential LVDS33 interface.
The User FPGA is connected to a 128 Mbytes, 16 bit wide DDR3 SDRAM. The SDRAM-interface uses a hardwired internal Memory Controller Block of the Spartan-6.
The User FPGA is configured by a platform SPI flash or via PCIe download. The flash device is in-system programmable. An in-circuit debugging option is available via a JTAG header for read back and real-time debugging of the FPGA design (using Xilinx "ChipScope").
User applications for the modules with XC6SLX45T-2 FPGA can be developed using the design software ISE Project Navigator (ISE) and Embedded Development Kit (EDK). IDE versions are 14.7. Licenses for both design tools are required.
TEWS offers a well-documented basic FPGA Example Application design. It includes an .ucf file with all necessary pin assignments and basic timing constraints. The example design covers the main functionalities of the modules. It implements local bus interface to local bridge device, register mapping, DDR3 memory access and basic I/O. It comes as a Xilinx ISE project with source code and as a ready-to-download bit stream.
In order to support long term programs, the new TEWS' modules have a 5 year warranty.
About TEWS TECHNOLOGIES
TEWS TECHNOLOGIES is a leading solutions provider of embedded I/O and CPU products based on open architecture standards such as PMC, XMC, IndustryPack® (IP), CompactPCI, standard PCI, PCIe, AMC, FMC, and VME. TEWS has more than 30 years of experience designing and building turn-key embedded interface solutions using the philosophy to listen and respond to our customers' needs. Using this 'customer first' approach, TEWS has developed a large number of standard and custom products for industrial control, telecommunication infrastructure, medical equipment, traffic control and COTS applications. TEWS' line of embedded I/O solutions is available worldwide through a global network of distributors. For more information, go to www.tews.com.

Topics covered in this article