Rugged, Small, Lightweight, Ethernet, FPGA-Based Multi-Function I/O Controller
The ATC-ETH-DIG-I/O is an Ethernet based Multi-Function I/O module that employs dual Altera Cyclone® FPGAs for maximum deterministic performance and I/O capability.The module provides an Ethernet network interface for Digital I/O, Analog and Serial communication. Although it is fully functional as delivered, the User FPGA can be modified for custom bus implementations, which allows maximum flexibility and pre-processing capability for time-sensitive applications.To communicate with the host, the ATC-ETH-DIG-I/O uses simple standard networking protocol – Modbus – that allows for control and data transfers.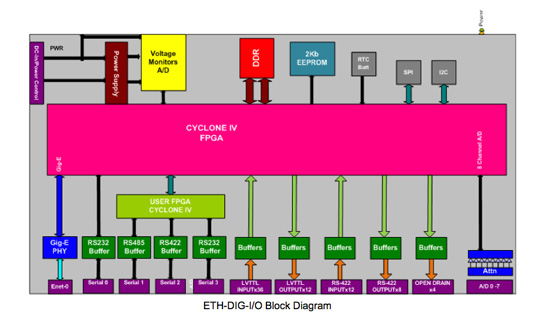 The Eth-ReporterII uses a single 160 pin I/O connector for all system inputs and outputs. The I/O connector is a high density D-type connector with female pins. The mating cable end connector is available in a number of configurations to meet specific application requirements.
Features
User FPGA for applications requirements via RS-232/422/488 (encryption, custom communication protocols, etc.)
One GigE port with ModBus TCP
Up to three RS-232/422/485 ports via User FPGA
Thirty six general purpose LVTTL lines with 1KΩ pull up
resistor
Twelve buffered general purpose LVTTL lines with
24mA drive per line
Four low-side open drain putput channels with 1A drive
per channel
Eight RS-422 output channels, twelve input channels
One I2C interface channel
One SPI interface channel
Eight 16-bit A/D channels for external voltage monitor
Internal voltage monitor capability
Designed and manufactured in USA
Environment
Operating temperature: -40° to +85° C
Shock: 30G, 15ms sawtooth
Vibration: 15G, 5-2000 Hz
Input voltage: +12 to +28 VDC
Mechanical
Size: 5.4" x 5.5" x 1.6" (WDH)
Rear panel I/O: 160-pin Molex
Weight: 1.67 lbs
MTBF: >250,000 hours