Extreme Engineering Solutions' XPand9011 is an Intel® Xeon® E5-2600 v4 Family Processor-Based Secure 2U Rackmount Server
The XPand9011 by Extreme Engineering Solutions (X-ES) is a secure 2U rackmount server with dual 40 Gigabit Ethernet and six PCI Express expansion sites. It provides an industry-leading combination of security, performance, and flexibility for a rackmount server.
XPand9011 is one of many of Extreme Engineering Solutions' highly secure rackmount servers.
Features
Secure 2U rackmount server with front I/O
Supports dual Intel® Xeon® E5-2600 v4 family of processors (formerly Broadwell-EP)
Integrated Xilinx Kintex® UltraScale™ security FPGA (XCKU060 or XCKU095)
Six PCI Express expansion sites
Ruggedized design
Up to 128 GB of DDR4-2400 ECC SDRAM across eight channels
Two 40 Gigabit Ethernet ports
Three 3.5 in. Hot Swap SATA drive bays
Two RS-232/422/485 serial ports
IPMI support
Redundant power supplies
Contact factory for additional OS support
Trusted US-Based Supply Chain and Operations
The XPand9011 is designed and manufactured in the USA, using COTS components from trusted domestic supply chains.
Supporting a standard 2U rackmount form factor with six PCI Express expansion slots, it is a true Open Systems Architecture (OSA) design. The XPand9011 also integrates ruggedization features that enable it to perform in environmentally challenging applications without modifications or enhancements.
About Extreme Engineering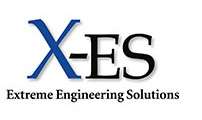 Extreme Engineering Solutions, Inc. (X-ES), a 100% U.S.A.-based company, designs and manufactures Intel® and NXP (formerly Freescale)-based single board computers, networking products, storage products, power supplies, and system-level solutions for embedded computing customers. For further information on X-ES products or services, please visit our website: www.xes-inc.com, call +1 (608) 833-1155, or email us at sales@xes-inc.com.