Extreme Engineering Solutions' XChange3021 is a 3U VPX PCI Express Gen3 and 10 Gigabit Ethernet Integrated Switch with XMC Support
The XChange3021 by Extreme Engineering Solutions (X-ES) is a conduction- or air-cooled, 3U OpenVPX™ integrated switch module supporting both PCI Express and Ethernet protocols. The integrated PCI Express and Ethernet switch functionality allow XChange3021 to serve as the heart of inter-board communications inside a high-end OpenVPX™ system.
XChange3021 is one of many of Extreme Engineering Solutions' powerful embedded Ethernet switches.
Features
Up to six x4 PCI Express Gen3 interfaces
One x8 PCI Express Gen3 interface to XMC site
Up to eight 10GBASE-KR or 1000BASE-BX/KX Ethernet ports
Up to two 10GBASE-T Ethernet ports
Up to three 10/100/1000BASE-T Ethernet ports to XMC site
Layer 2 switching and Layer 3 routing management with extensive IEEE protocol and IETF RFC support (optional)
VICTORY Infrastructure Switch and Router support (optional)
Supports the XPedite5205 Cisco IOS® Embedded Services Router
Integrated dual-core ARM A9 management processor
Compatible with multiple VITA 65 OpenVPX™ switch slot profiles
Ruggedized Enhanced Design Implementation (REDI) per VITA 48
Excels at High-Bandwidth Communications
The XChange3021 supports x4 width Gen3 (backwards compatible with Gen1 and Gen2) PCI Express links between up to 6 slots in an OpenVPX™ backplane to facilitate high-bandwidth, memory mapped communications between the payload boards. In addition, a x8 PCIe link is provided to an onboard XMC mezzanine site to allow for onboard I/O and protocol expansion.
The XChange3021's Ethernet switch supports various configurations of up to ten 10 Gigabit or Gigabit Ethernet ports. The Ethernet switch supports jumbo packets up to 12 kB, IPv6, Energy Efficient Ethernet (EEE), and a comprehensive set of IETF RFCs and IEEE protocols.
Supports Embedded Services Router (ESR) with Cisco IOS®
When paired with the optional XPedite5205 XMC/PMC embedded router module, the XChange3021 includes Cisco IOS® IP routing and Cisco Mobile Ready Net capabilities. With this technology, the router provides highly secure data, voice, and video communications to stationary and mobile network nodes across both wired and wireless links.
About Extreme Engineering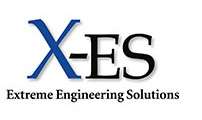 Extreme Engineering Solutions, Inc. (X-ES), a 100% U.S.A.-based company, designs and manufactures Intel® and Freescale-based single board computers, networking products, storage products, power supplies, and system-level solutions for embedded computing customers. For further information on X-ES products or services, please visit our website: www.xes-inc.com, call +1 (608) 833-1155, or email us at sales@xes-inc.com.