Extreme Engineering Solutions' XCalibur1840 is an NXP QorIQ T4240 12-Core Processor-Based Conduction- or Air-Cooled 6U VPX SBC
The XCalibur1840 by Extreme Engineering Solutions (X-ES) is a high-performance, 6U VPX, single board computer supporting NXP (formerly Freescale) QorIQ T4 processors. With 12 dual-threaded Power Architecture® e6500 cores running at up to 1.8 GHz, the T4240 delivers enhanced performance and efficiency for today's embedded computing applications.
XCalibur1840 is one of many of Extreme Engineering Solutions' powerful embedded single board computers.
Features
NXP QorIQ T4240 processor with 12 dual-threaded Power Architecture® e6500 cores at up to 1.8 GHz
Alternate NXP QorIQ processors available: T4160 and T4080
x4 PCI Express lanes from CPU to switch
PCI Express to XMC sites (x4 to XMC 0, x8 to XMC 1)
Four x4 (x16 total) PCI Express lanes from switch to P1
10GbE XAUI to P2 (optional)
Two 10GBASE-T to front panel using I/O mezzanine card (optional)
Two SATA ports
Two USB 2.0 ports
Four Gigabit Ethernet ports
Two RS-232/422/485 serial ports
Two XMC/PrPMC interfaces
NXP hypervisor support for secure partitioning
Rapid Processing from a Variety of Standard COTS I/O
The XCalibur1840 provides a number of external I/O interfaces, including front and rear panel 10 Gigabit Ethernet, Gigabit Ethernet, RS-232 serial, and USB 2.0.
Rear panel I/O also includes SATA, XMC/PMC I/O, RS-232/422/485 serial, and four x4 PCI Express Gen2 interfaces.
High-Performance Processing Power
The NXP QorIQ T4240 processor brings raw multi-core power, along with three-channel DDR3 memory and a high-performance 128-bit AltiVec unit per core to deliver unparalleled performance.
For more power conscious applications, the T4160 processor offers eight dual-threaded e6500 cores and the T4080 processor offers four dual-threaded e6500 cores, both running at up to 1.8 GHz with two-channel DDR3 memory and all within a significantly reduced power envelope.
About Extreme Engineering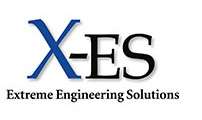 Extreme Engineering Solutions, Inc. (X-ES), a 100% U.S.A.-based company, designs and manufactures Intel® and Freescale-based single board computers, networking products, storage products, power supplies, and system-level solutions for embedded computing customers. For further information on X-ES products or services, please visit our website: www.xes-inc.com, call +1 (608) 833-1155, or email us at sales@xes-inc.com.
Topics covered in this article