Embedded I/O System – NIU1A Nano Interface Unit
NAI's NIU1A is a nano unit with an integrated power supply, one function module slot, and an optional ARM Cortex A9 processor. This small, low-power I/O unit is ideally suited for rugged military, industrial, and commercial applications, and delivers off-the-shelf solutions that accelerate deployment of SWaP-optimized systems — in less time, with NO NRE.
Versatile Architecture
The NIU1A provides embedded computing capability via an integrated SoC dual ARM Cortex-A9 processor to add distributed network sensor data interfaces to mission-critical computers without expensive chassis or backplane redesign. The NIU1A delivers ARM processing, Gig-E interfaces and configurable I/O or communications, all in the industry's smallest package.
Customer-configurable
NAI's modular, highly configurable Custom-On-Standard-Architecture™ (COSA™) enables you to meet your most demanding system requirements out-of-the-box. Pre-existing, fully-tested functions can quickly and easily be selected to meet system requirements. Individually dedicated I/O and communications processors allow mission computers to manage, monitor, and control the functions via single or dual Ethernet ports.
The NIU1A is designed to operate under extreme temperature, shock, vibration, and EMI environments.
Features:
Supports 1 Intelligent I/O function module
40+ intelligent I/O or communications modules to choose from
Comprehensive processor software programming support for Wind River® Linux, VxWorks and Xilinx® PetaLinux
2x 10/100/1000 Base-T Ethernet ports or 1x 10/100/1000 Base-T Ethernet port and 1x USB port
COSA™ architecture
1.5"H x 1.7"D x 6.8"L @ 16 oz. (454 g) with 3 mounting options
128 MB DDR3 SDRAM
4 GB SATA II NAND Flash (up to 32 GB option)
< 15 W MB power dissipation
1x RS232
Continuous Background BIT
Operating temp: -40°C to +71°C conduction cooled
28 VDC input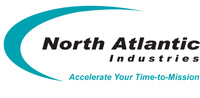 North Atlantic Industries, Inc.
Phone: (631) 567-1100
Web: www.naii.com

Topics covered in this article