Configurable, COTS Mil-Grade Motor Controller & Drive…Provides Cost Saving Flexibility
DDC's configurable DSP-based, full featured motor controller & drive provides multi-interface position, torque and speed control, and is designed for demanding high reliability military and aerospace applications. The new PW-87 series motor controller is easily configured, via included GUI, for optimal motor performance, tuned to specific motors and loads, providing cost saving flexibility to support evolving application requirements.
Benefits:
Fully Integrated, Plug & Play Bus Powered Platform with On-board Power Terminals and I/O for CANbus, RS-232, RS-422, RS-485 & Ethernet
Easy-to-Use Graphical User Interface (GUI) Provides a Turnkey Solution that can be Easily Tuned for Optimal Motor Performance with a Wide Variety of Brushless DC Motors and Loads
Up to 75A Output Current with 600/1200VDC Rating Available
Rugged Mil-Grade Solution with Extended Temperature Range -40°C to +105°C
Compact, Highly Efficient Single Module Design Provides Size, Weight, Power, and Cost (SWaP-C) Leading Product in its Class

Data Device Corporation (DDC) is a world leader in the design and manufacture of high-reliability Connectivity, Power and Control solutions (Data Networking; Power Distribution, Control and Conversion; Motor Control and Motion Feedback) for aerospace, defense, and industrial applications. With awards for quality, delivery, and support, DDC has served these industries as a trusted resource for more than 50 years... providing proven solutions that are optimized for efficiency, reliability, and performance. Data Device Corporation brands include DDC, Beta Transformer Technology Corporation, National Hybrid Inc., Pascall Electronics Ltd., and XCEL Power Systems Ltd. DDC is headquartered in Bohemia, NY and has manufacturing operations in New York, California, Mexico, and the United Kingdom. For more information, visit: www.ddc-web.com.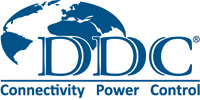 Topics covered in this article